About the Grow Through It Podcast With Phi Dang
Grow Through It, is a podcast on all things mindset, self love, energy and purpose. 
Hosted by Phi Dang, a clarity and confidence life coach known as 'The Positivity Queen,' this podcast is for you if you are looking for not just inspiration and motivation to live your best life but practical tips and strategies you can implement in your daily life.


Listen to The Grow Through It Podcast with Phi Dang below
The Grow Through It Podcast with Phi Dang Episodes and Shownotes below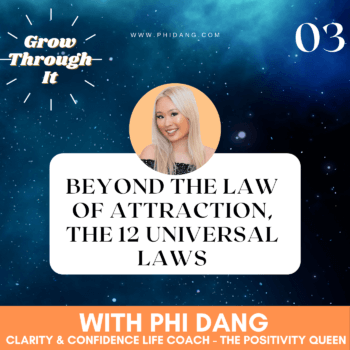 In this episode I explain the 12 universal laws of the Universe. I cover how they impact your life and how you can use them in your daily life through practical examples. It goes beyond the Law of Attraction and covers ones you may have never heard of such as the Law of Correspondence and the Law of Perpetual Transmutation of Energy.
Read More »