Wow, I'm straight off the Jay Shetty Masterclass and I felt absolutely compelled to write. This article is a Business Chicks review about my experience of an online Business Chicks Masterclass. I will preface this article that I had never attended a Business Chicks event prior to this. I was not asked or paid to write this. This is an honest review of first time Business Chicks attendee.
Why a Business Chicks Review?
This article was created as I had heard so much about Business Chicks. I have tried to google and research for other Business Chicks reviews and could not find one. It's funny I had seen Business Chicks all over my social media from a colleague I used to work with. To be completely honest, I was a skeptic. The old colleague of mine would have inspirational quotes all over her story. She would post pictures from a beautiful brunch in the morning and the classic shot of a goodie bag. This was my impression of Business Chicks and Business Chicks attendees.
Without a doubt, Business Chicks has consistent and beautiful branding. I fully appreciate this as a strategist in my corporate job. However it just seemed like a movement that big businesses endorsed. Perhaps I was secretly jealous her company had memberships for every woman (it's a great thing! and yes I totally was and still am). Read on to find out what I truly think about Business Chicks in my review. Additionally I will be sharing what I learnt from the Business Chicks Jay Shetty masterclass.
What is Business Chicks?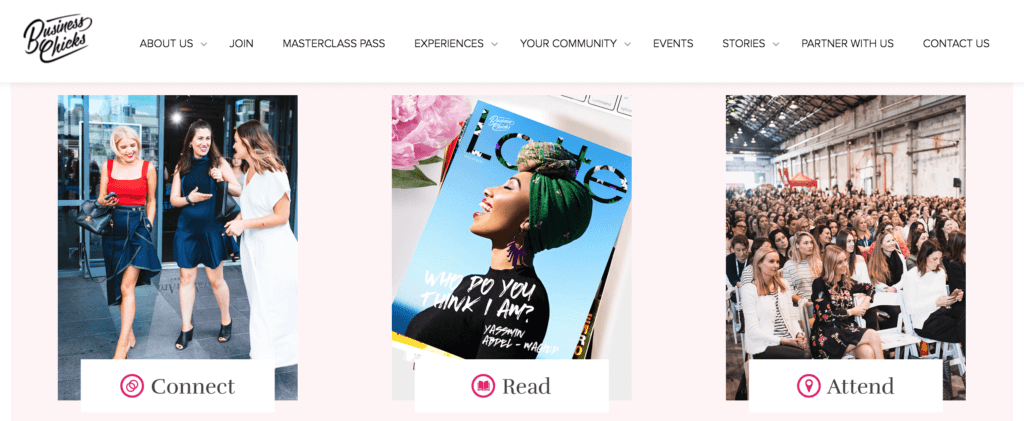 Before I dive into a Business Chicks review, for those who have not heard of Business Chicks. Business Chicks is Australia's largest and most influential community for women. For those in the corporate world at least in Australia, they are very well known for holding events. I believe they also have a presence in the US and UK too. Despite their name, Business Chicks isn't just for women in business. Business Chicks are all about giving you the tools you need to propel yourself.
Emma Isaacs is the founder and Global CEO of Business Chicks. When I read her story I was genuinely so impressed and inspired. At the age of 18, she started her own recruitment business (a huge feat before the whole #bossbabe movement!). Years later she was asked to run a small event by a group called Business Chicks. She would go on to take a leap of faith to purchase said group. This group would go onto become a well known movement and community amongst women in Australia and globally.
Why did I attend a Business Chicks Masterclass?
At the time of writing this Business Chicks review, we are currently in self isolation due to the coronavirus. I had looked up Business Chicks online a few times however I had a few obstacles in my mind.
1) I thought it was really expensive from the pictures I had seen. My belief was that only huge corporate companies funded for their staff to attend. Not only that these incredible companies gave their staff the time to attend the events.
2) Even if it was a free event, I didn't have time! I didn't even know they had online events. I'm so happy and appreciative of all the companies that enable their staff for true personal growth and development. In my current role I am absolutely swarmed. It's the type of job where sometimes you end up skipping the gym at lunchtime to hit a client deadline.
3) Previously I had never heard of any of their guests. I didn't take a personal interest or proactive desire to understand and research the guests.
So what finally pulled the trigger? I had happened to stumble upon a LinkedIn post. Business Chicks were offering women a free virtual masterclass in New South Wales where I reside. To my disappointment I had missed it! However I was really moved that a free masterclass was offered during a tough time for many people.
I hopped onto the website and I had chills. I could not believe it! They had secured Jay Shetty of all people as a guest. To say I'm a fan of Jay Shetty is a huge understatement. I have been following him for a while on social media before he blew up into the mainstream arena. The opportunity to see someone speak who I absolutely admire live, it was hard to resist!
I had expected the Business Chicks masterclass to be $100+ however to my delight, it was only $25! Not only that, the event fell on a day that I did not have work and it was held virtually. It had seemed all the stars had aligned. I slept on it for a few nights and on the day decided to take a leap of faith. I decided to join in – to see what the Business Chicks movement was all about.
Who is Jay Shetty?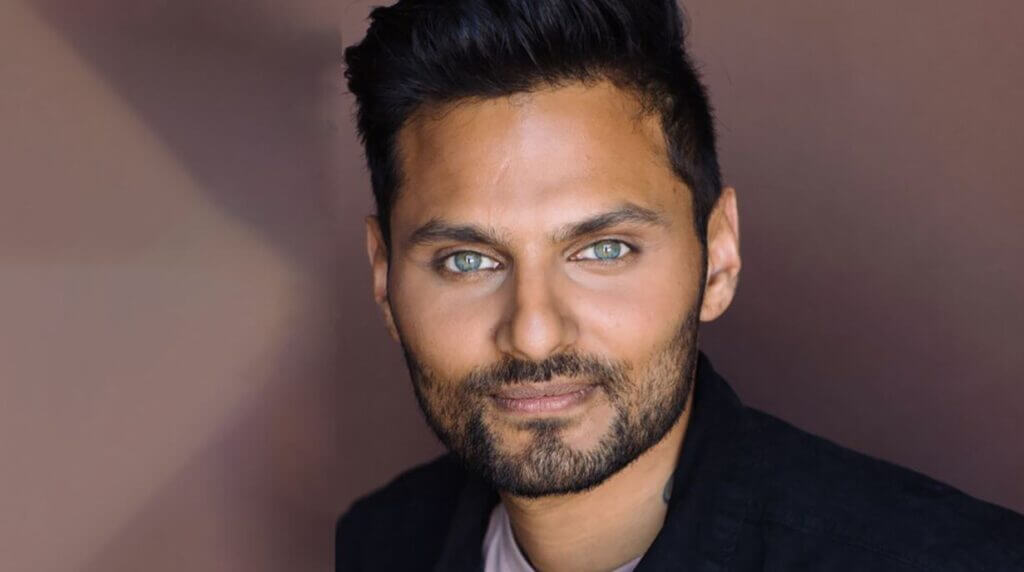 At this point in time, if you are interested in personal development and self growth, you would have to be living under a rock not to know who Jay Shetty is. He is absolutely everywhere: Instagram, Facebook, Youtube – you name it. Jay had previously been a monk in India and Europe at 22. After this, he returned to the modern world as we know it. He went onto work at Accenture before creating inspiring and powerful videos. These videos suddenly appeared everywhere after Arianna Huffington spotted him. The rest is history as they say, he is now an incredible influencer with over 20M followers.
My top 3 favourites so far are:
It's fair to say I had definitely turned to Jay's videos during dating dilemmas.
The Business Chicks Review: Jay Shetty Masterclass
I think I would go on to write pages and pages if I fleshed out everything I had learnt from this Business Chicks Jay Shetty Masterclass. From the beginning, Business Chicks make it easy. I even had reminders sent out before the event which I'm so thankful for as I easily forget things!
From the beginning there was a great introduction by Emma. She introduced Sarah who knew of Jay and of course Jay Shetty himself. Sarah Davidson (Holloway) hosted this Business Chicks Masterclass.
On Sarah Davidson (Holloway)
I had seen Sarah's posts on Instagram occasionally and had always thought she seemed so lovely. She was definitely someone I resonated with given I am a proud law school drop out. She was a former mergers and acquisitions lawyer for a top tier firm in Melbourne. During this she had a health scare and realised her passions didn't align with her career.
This led to new opportunities where she now runs Matcha Maiden selling affordable and accessible matcha. Furthermore she owns Matcha Mylkbar a plant based cafe in St Kilda, Melbourne, Australia. Sarah also runs a podcast called 'Seize the Yay'. The podcast is where she investigates how some of the world's most inspiring people find their "yay".
I had no idea she was into self growth and self development. She was an amazing 'host' as she knew about Jay which really showed. She had an incredible interview style where Jay had even admitted he had told stories he had never before. Go Sarah! I was already sold from the moment I heard her speak before Jay Shetty.
I appreciate the fact that Business Chicks chose Sarah to interview Jay. This is because it can be incredibly cringeworthy watching a conversation between two people where the host has no idea about the guest however this was not the case today.
On the Business Chicks Jay Shetty Masterclass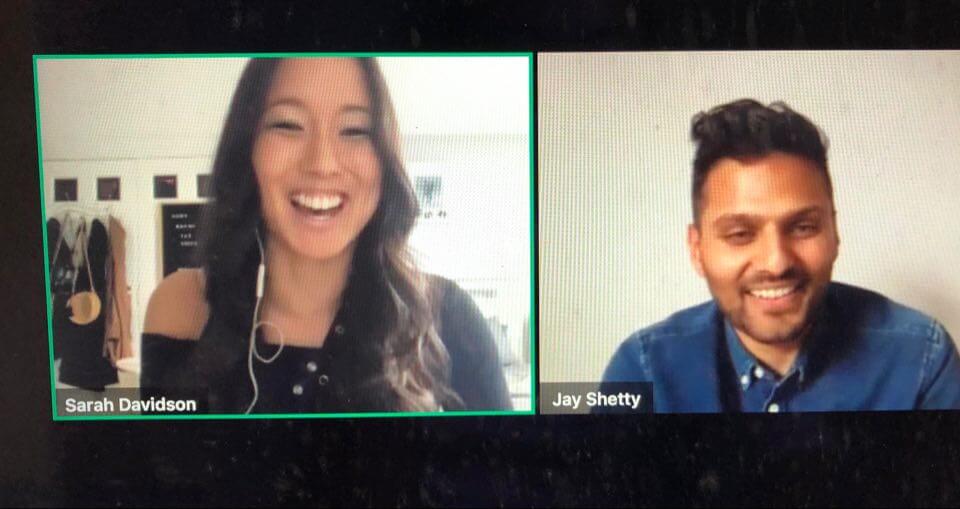 As a non member, you can access the Masterclass on their website through a one off purchase. Alternatively Business Chicks offer a great value Masterclass Pass too. I loved this as I hate committing to something without knowing what a programme will be like. Sometimes the big business programs don't allow any access at all without a membership.
Logistics of a Business Chicks Masterclass online
This Business Chicks Masterclass was online only through an easy to download application. I had no issues understanding how to install the application or 'attend' the Masterclass. The Masterclass begins with an inspiring brand piece. This is followed by an introduction by Emma of the host Sarah and the guest Jay.
It's handy to know that you don't have to take notes during the Masterclass. Business Chicks record the conversation which is available up to 4 weeks after the masterclass. This means you can be fully present for the Masterclass. Personally I love taking notes as I feel I pay more attention and absorb what is going on.
The actual Business Chicks Masterclass
Sarah and Jay had a really insightful conversation full of nuggets of wisdom. They are both very charismatic. The conversation flowed consistently (don't you just hate watching awkward conversations not only in real life but online too!). The conversation was inspirational, honest, human and authentic. It was a real testament to Sarah as she had a framework so it didn't go 'off topic' in a sense. She knew how to get the best out of Jay Shetty!
As a result of this Business Chicks Masterclass I have learnt so much. I will share my key learnings in the next section of this article. This Business Chicks Masterclass has definitely won me over and I would definitely attend another one sometime. I finished the Business Chicks Masterclass feeling inspired and motivated not only in my job but also in myself. I am so glad I took the time for myself to attend and invest the $25 (for a non member). If all the Business Masterclasses are like this, I need to sign up ASAP!
Key Learnings from the Business Chicks Jay Shetty Masterclass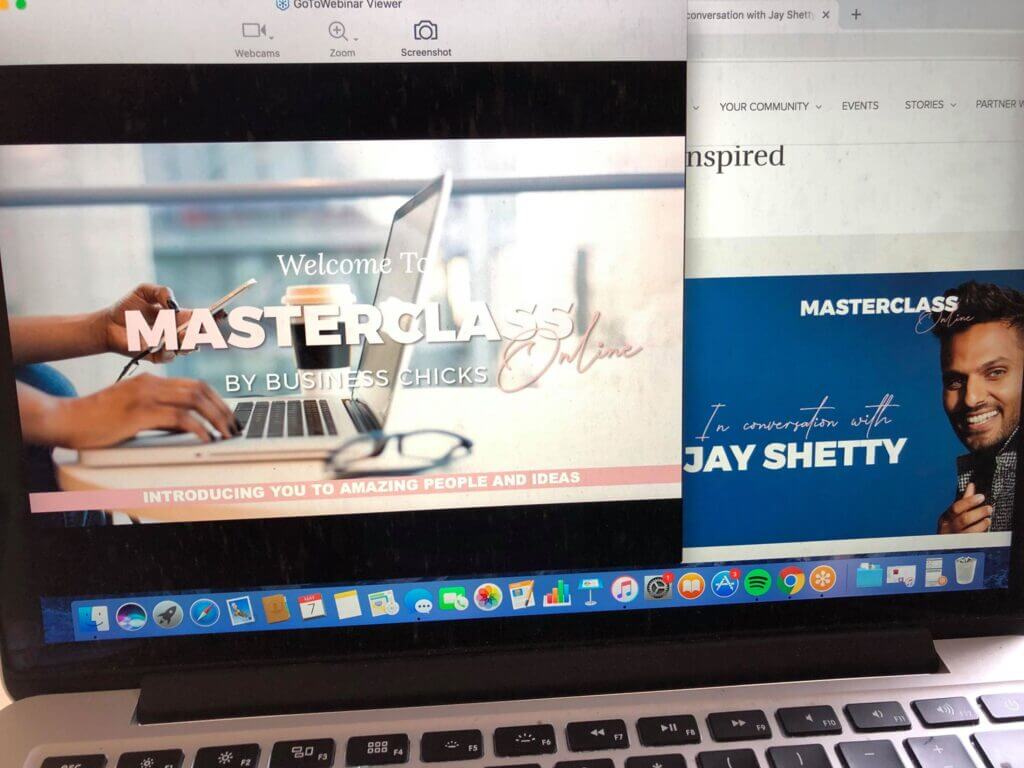 The current situation at hand, coronavirus
Coronavirus affects everyone in the world, no matter who you are. It affects influencers, celebrities, your neighbour, your friend of a friends – everyone. It is a sad and humbling fact all at the same time. Definitely a global event we will all remember for the rest of our lives.
How this coronavirus has made it harder for everyone to numb and distract themselves. We are all guilty of doing this with being busy all the time. It is so important to sit with your feelings. Who are you without being so busy and productive all the time? Sarah noted the importance of your sense of self without external factors.
Jay spoke about revisiting gifts you have that you had forgotten. How you could use your gifts to impact your community. That sharing your gift in this time was a wonderful silver lining, an opportunity. He has just launched 20 days of live meditation for 20 minutes. This came from his roots as a monk and daily practice. Personally, I had definitely forgotten how I loved to write and help others. Hence why I finally got in her vitality off the ground, despite buying the domain in August 2019 last year!
Inspiration, tools and resources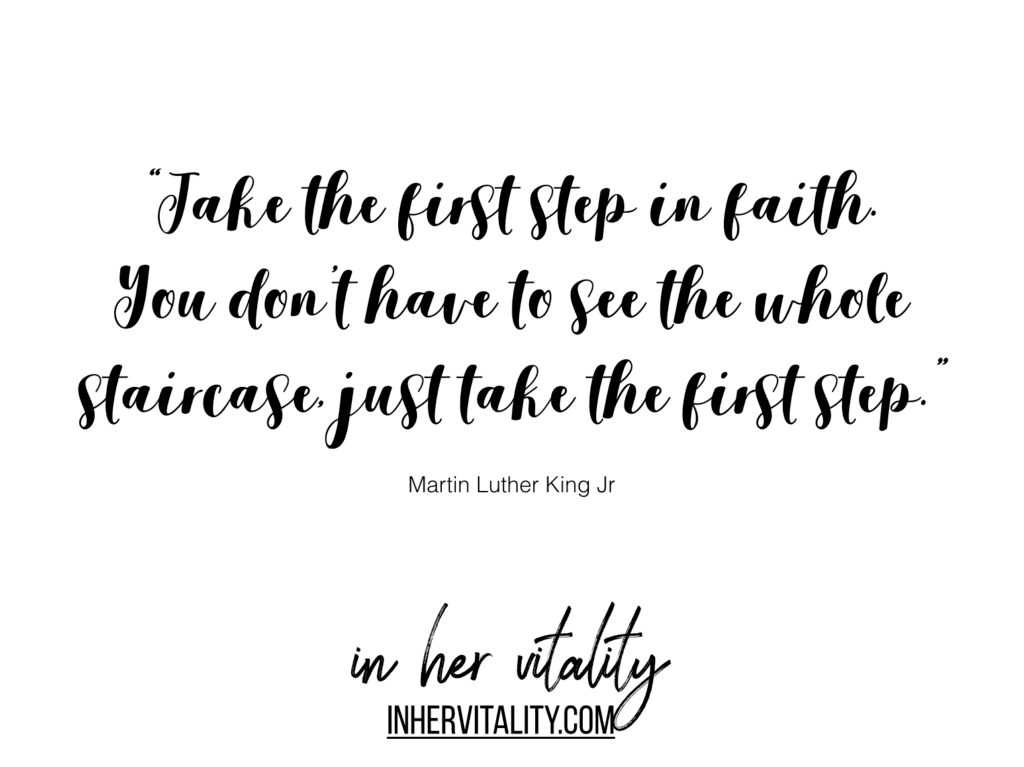 Sarah said a really powerful line that resonated with me. She spoke about how you don't have to see the first stair of a staircase to take the first step. Very true and inspiring. She also spoke with Jay about our new versions of our purpose and our routine as the coronavirus is happening.
Tools and practices to support yourself during Coronavirus. Jay Shetty visualises and manifests too! He spoke about visiting the Ellen Show set and a year later it came true! He also spoke about how he used to journal a lot and self reflect as a monk.

Are you struggling with feeling lost, confused and overwhelmed during the coronavirus? Check out the FREE guide here: 33 Powerful Journaling Prompts to Realign and Recenter during COVID-19. In addition to journaling I personally love using affirmations. Affirmations are a powerful tool in living a soul fulfilling life. Find various affirmations here, the most popular by far are the 46 affirmations to radiate self love. Additionally, 22 powerful affirmations to reframe your thoughts for a positive mindset if you are struggling with anxiety.

For the career involved and driven, you may find these 22 positive affirmations for the workplace to overcome stress useful. Moreover there is The Art of Fika, a popular Swedish mindset practice used in life and the workplace. On a final note, if you're interested in Scandinavian mindsets, the Danish hygge may be relevant during times of isolation at home.

Jay spoke about his mindset of knowing that one day, your experiences will be useful. Even if it may not feel like it at the time. This was prompted when asked about transitioning from a monk to working at Accenture to launching his own movement (videos, a book, courses etc). He also alluded to the fact you may not love your job right now but what a positive it is to be able to learn and grow.
Concluding on this Business Chicks Masterclass Review

All in all, I am so glad I overcame my skepticism of Business Chicks to join the Jay Shetty Masterclass. Whilst I am still not a member right now, I am definitely considering becoming one. I would attend another Business Chicks Masterclass. The Business Chick Masterclass I attended was inspiring and helpful. They are a great opportunity to take the time to tune into yourself.
It definitely did help I was a fan of the guest of the Masterclass, so it would be really interesting to attend another one of someone who I don't know. At the end of the day if you are interested about someone's teachings, you're more then likely to enjoy their Masterclass.
In conclusion Business Chicks is definitely more affordable and accessible then I first thought. Not only that it is a beautiful community, they are very active on their Business Chicks Instagram. I encourage you to find out for yourself and make up your own mind! You can check out Business Chicks here.