The popularity of social media and increased time we all spend online has led to the massive growth in online female communities. As a result, there has been a rise in online female communities for women supporting women. These communities are inspirational because they enable women to connect and network with each other. A supportive environment for sisterhood to help each other, businesses and side hustles.
BossBabe

About BossBabe
BossBabe is an online community for unapologetically ambitious women who know what they want. As a result, BossBabe is online female community empowers budding female entrepreneurs and business owners with a kit for success.
Who is the founder of BossBabe?
BossBabe was originally founded by Alex Wolf. It's fascinating you can watch the old BossBabe material here: Original BossBabe YouTube. Wolf founded BossBabe at the age of 22! After hitting a quarter of a million followers, she sold the company at 25. Wolf now is a consultant and speaker, with an online educational platform Creative Business School.
BossBabe is now run by Natalie Elizabeth Ellis and Dr. Danielle Canty who are the cofounders and CO-CEOs. In a BossBabe podcast episode on 'The One Thing You Need For a Thriving Business Relationship' the two shared how they live and work together.
Both entrepreneurs have turned BossBabe is a huge powerhouse in the female community. You only have the look up the #bossbabe hashtag all over social media. They have over 16M followers and 1.9M+ members in their social media community.
What do you get from BossBabe?
The Société is the BossBabe membership program which includes an instant success kit upon joining. The membership is paid and private for female entrepreneurs to connect, build and grow. In terms of other resources, the BossBabe team have a blog and podcast in addition to running events.
Examples of content:
Cost of BossBabe?
$35USD a month = $420USD a year. It is important to note, that they do offer free advice. They do this on their Instagram and on their site through blog posts and their podcast.
Business Chicks

About Business Chicks
Business Chicks is Australia's largest and most influential community for women. They also have a presence in New York and Europe. Business Chicks openly advocate that their membership is not just for women in 'business.' They warmly endorse that Business Chicks is about helping all women play a bigger game.
Who is the founder of Business Chicks?
Emma Isaacs is the founder and Global CEO of Business Chicks. Isaacs ran her own recruitment company from the age of 18. During her time she was asked to run an event for a group called Business Chicks. The rest is history as they say as she went onto acquire the group and shape it into what it is today. Emma has grown the the small Business Chicks group of 250 members into a community of thousands of engaged women.
What do you get from Business Chicks?
Business Chicks has over 100 Business Chicks events annually. They have high profile guests such as Brené Brown, Arianna Huffington, Nicole Kidman, Sophia Amoruso, Nigella Lawson and Jay Shetty. If you're interested in what their Masterclasses are like refer to our Business Chicks Review on the Jay Shetty Masterclass. Business Chicks truly is an open community where non members are able to book a masterclass too. Their members do receive discounts and special members only workshops.
Examples of content include:
Cost of Business Chicks
Business Chicks is a paid membership at $199AUD a year and $9.99 joining fee. Benefits include and are not limited to access to their Masterclasses, connecting with other members and a subscription to their magazine Latte.
Girlboss

About Girlboss
Girlboss is for millennial women progressing whether that is personally or professionally. Their values are humour, vulnerability, curiosity and inclusivity. GirlBoss is an online community providing a place to network alongside resources and tools to progress.
Who is the founder of Girlboss?
Sophia Amoruso is the original Girlboss who is known for being the founder of clothing empire Nasty Gal. The humble Nasty Gal Vintage eBay store turned into one of the fastest growing online boutiques, Nasty Gal. In 2014 her autobiography was titled #GIRLBOSS. Amorouso went on to create Girl Boss Media, a company geared towards a female audience. In 2017 she launched the Girlboss platform. The rising success led to her selling Girlboss in 2019 to Attention Capital. Amouruso remains on the board of Girlboss.
What do you get from Girlboss?
Girlboss is a like minded community to connect and network with, They have weekly Digital Firesides with today's thought leaders such as Payal Kadakia founder of ClassPass. Additionally they run a blog and have a video library full of resources. The Girlboss blog covers a huge range of topics such as work, money, wellness, beauty and life.
Examples of content include:
Cost of Girlboss?
Hub Dot

The Girlboss platform is open and free to anyone.
About Hub Dot
Hub Dot is a professional network for women that has its origins in London. They believe in connecting people to bridge the gaps, strip away labels and level the playing field. Their values are community, authenticity, humanity, sharing and trust. Hub Dot runs events through a system of five dots which replace job titles and social status.
Who is the founder of Hub Dot?
Simona Barbieri is the founder of Hub Dot. In Simona's interview with Look Magazine, she speaks about the origins of Hub Dot. She was having a coffee with a bunch of friends, when a friend made a comment about feeling 'stuck'. She wanted to help and saw the potential of connecting individual powers to make 'things happen'. That was the beginning of what we she calls Dot Alchemy – Dots intersecting to share stories and transform.
What do you get from Hub Dot?
The Hub Dot events as mentioned run on a system of five dots which reflect different mindsets. The mindsets range from being new, being established, looking for inspiration or networking or being compelled to tell your story. They have run events in over 25 cities in person and now run online Hub Dot Live Piazzas. This enables women from all over the world to join.
Cost of Hub Dot?
Previously physical Hub Dot events are ticketed to pay for logistics and operations. As a result of a growing network, the virtual ones are now free and are supported through donations.
Kool Kanya

About Kool Kanya
Kool Kanya is an online female community started in India. The community offers career advice and platform for women to share about jobs, careers, health and lifestyle. Kool Kanya was built to be a nurturing ecosystem for women to connect with each other and build careers they love.
Who is the founder of Kool Kanya?
Vanshika Goenka is the founder of Kool Kanya. In 2017, she was doing market research for a sanitary pad company. Whilst doing so, she realised it was a room full of men discussing how to better a product only for women. Goenka came to the realisation of a skewed gender ratio in the Indian workplace. As such, she was determined to create a community of women and Kool Kanya was born.
What do you get from Kool Kanya?
Kool Kanya is a safe space for women to connect with each other and ask questions. They provide career advice through their Power Reads in addition to running events and helping members find a mentor. Their values are transparency, empathy, self-drive, failing forward and user centric.
Examples of content:
Cost of Kool Kanya?
Kool Kanya is free and open to join!
TwoXChromosomes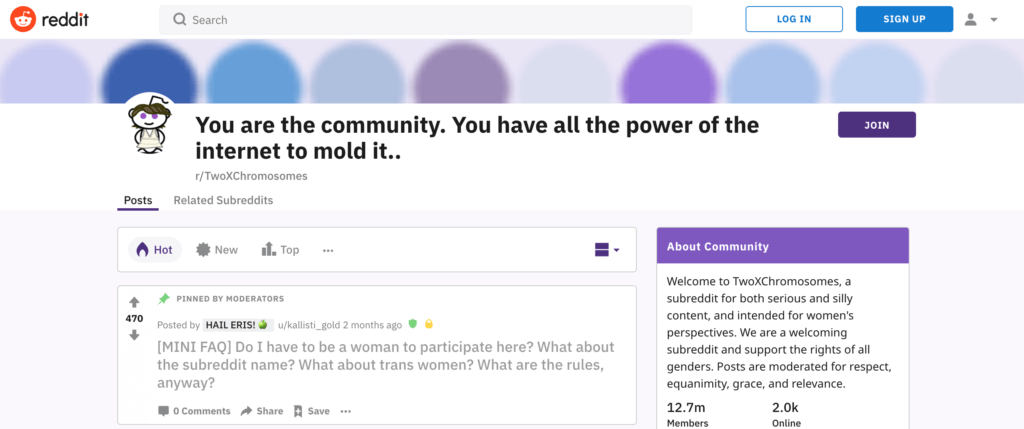 About TwoXChromosomes
TwoXChromosomes is a subreddit intended for women's perspectives on the meaningful and silly. At current there are 12.7M members of the community and at the time of writing 4.5K were active online. In 2014 TwoXChromosomes was made a default community. This meant that everyone could see the community regardless a Reddit member or not. The community name "XX" is not meant to be specifically inclusive or exclusive of anyone.
Who is the founder of TwoXChromosomes?
According to Dailydot's profile of the TwoXChromosomes community, the founder is a username by the name of HiFructoseCornFece. She is only known by her username which is fair enough for privacy and out of respect. In the article she says, "There is something for most everyone in 2XC, regardless of age or gender."
"There was definitely not one singular place or person to whom I could have gone five years ago for advice on birth control, girl friendships, love, sex, workplace survival, waxing, makeup, bras, no-heat curls, and life crises. I think it's sanded off some of my cynicism to see that kind of support and camaraderie. We're all pioneering this weird existence together."
What do you get from TwoXChromosomes?
Conversation and connection in relation to the existence and/or experience of girlhood is on the community. They are platform for insightful dialogue, laughter, and community.
Popular all time posts according the stats of the TwoXChromosomes include:
Cost of TwoXChromosomes?
The community is free to join, you will just need a Reddit account to post otherwise you can lurk on the pages.
Women Who
About Women Who

Women Who is a community for working women dedicated to helping women think, work, and live better. The create environments the enable connection, to share information and to have fun. The aim of Women Who is to help women get where they want to be.
Who is the founder of Women Who?
Otegha Uwagba is the founder of Women Who. Her interview with Elle, How I Quit My Job To Launch A Women's Network details the origins of Women Who. Having an advertising background, she worked at VICE. After a year of working there, she quit without knowing what to do next. Uwagba had an idea that had been growing for a while to create an online platform. She wanted the platform to spotlight and supports creative working women who are figuring things out.
What do you get from Women Who?
They have a newsletter, podcast, worksheets in addition to running workshops and events.
Examples of content include:
Cost of Women Who?
The worksheets are at a cost of $20-30 GBP. Their newsletter and podcast is free.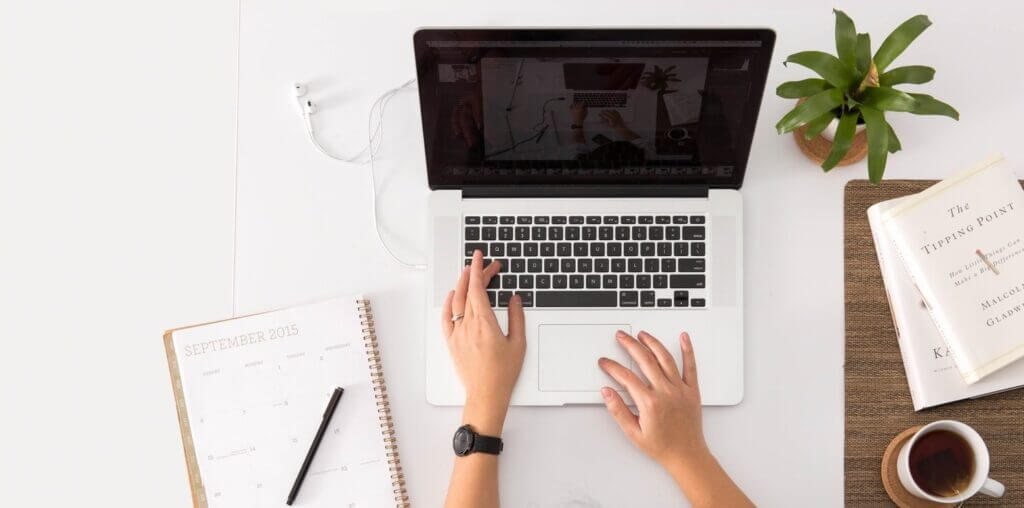 In conclusion of online communities for women supporting women
The world is an incredible place compared to many years ago. Women used to face many more challenges and obstacles existed for women. We now live in a society that is moving towards championing flourishing women.
Women who support other women. Connection over community. Above all, there are a range of communities available for women that are not restricted to this list. Community can start from your local neighbourhood all the way to the big global community that exists today thanks to the internet.
Get involved! Become a part of an online female community. There is nothing to fear or worry about. There is so much to gain by being part of an online community for women. Benefits range from connecting with others, making friends, learning how to improve not only your business or career, but yourself.