Podcast: Play in new window | Download
Subscribe: Apple Podcasts | Google Podcasts | Spotify | RSS
What is your Saturn Return?
This episode is all about Saturn and the transit known as your Saturn Return. What is your Saturn Return and how a Saturn Return Human Design Reading can help you alongside tips to navigating your Saturn Return with my own personal examples.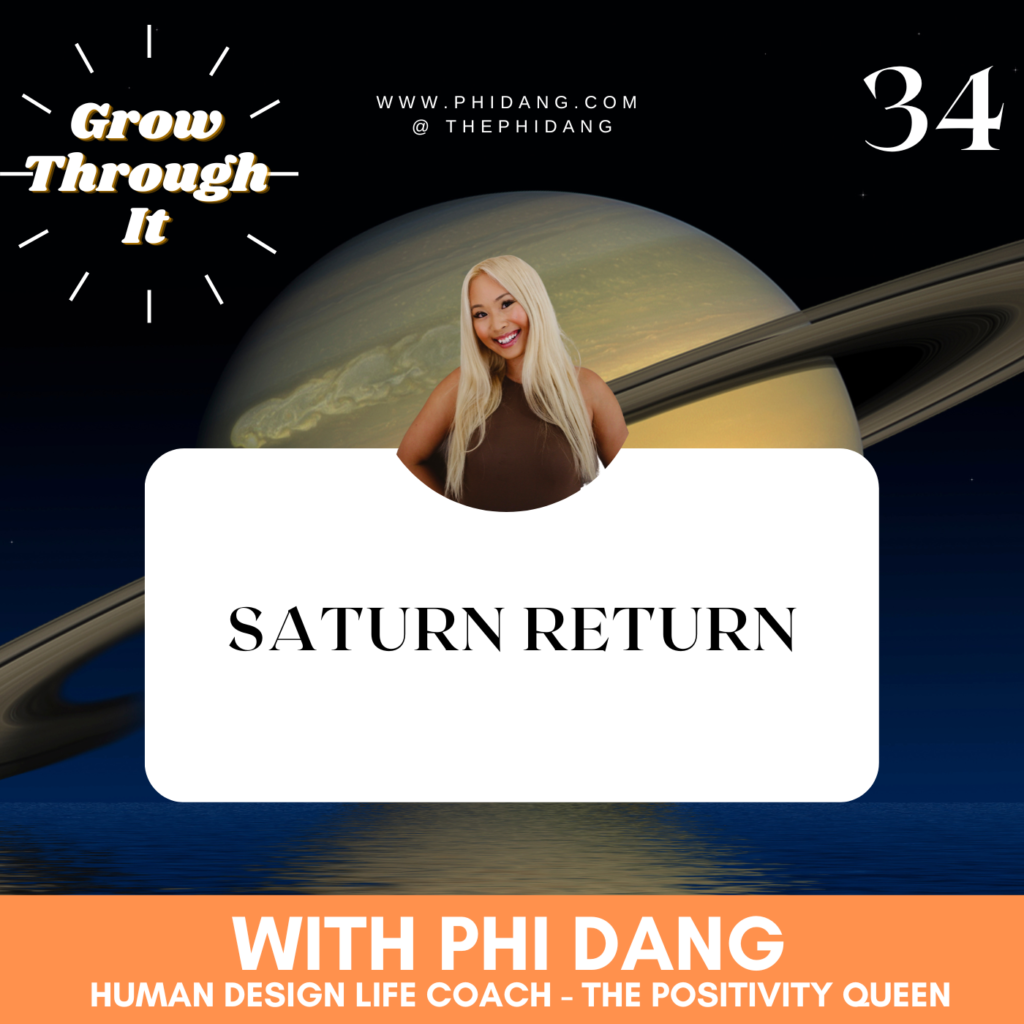 Featured Resources on the episode
Hello hello beautiful soul today's episode is all about your Saturn Return. 
Saturn Return is when the planet Saturn returns to the position it was in the cosmos when you were born. For Saturn it's orbit takes typically every 27-29 years to return to this position. 
When you get a reading done such as with me in a Saturn Return Human Design reading, you are given the exact time and date that Saturn returns to it's original position. It's influence is felt in the lead up to returning to that very position and afterwards too, that's why we typically see it influencing someone between the ages of 27-31.    
What information do you need for your Saturn Return?
In order to find out your Saturn Return date you'll need to know your birthday, time of birth and where you were born. Do note your Saturn Return begins when there's the collective shift into a different sign but the peak is when it's in the original position. You can find this out in a reading as I just mentioned but there's also free calculators online to work this out however if you want to go in depth and know all the details and what it means that's when you'd want a reading!    
What does Saturn Represent?
Saturn is the planet that represents responsibility, discipline and accountability. Saturn can also be known as the 'taskmaster,' 'teacher,' and dad' of the zodiac. Think of Saturn as your teacher that wouldn't just let you watch movies and skip homework. Saturn is the type of teacher that really wants to teach you the substantial stuff, may set really hard exams and later down the track you're thankful because you realise you learnt so much as difficult and painful as the process was. 
Likewise think of Saturn Return the experience like a Master's at the university of life. Before it takes place you have a degree or advanced diploma (think of this as your 20's experiencing life). A masters takes dedication, hard work and can be tough but ultimately so worth it just like your Saturn Return. 
Saturn Return, authority and parents
Collectively Saturn is authority so think your parents, bosses, institutions and government — here to keep things in order and check. By those same energies think themes that can come up in your return authority, restriction and responsibilities. 
Your Saturn Return particularly half way through towards the end has us free, liberated and emancipated from our parents as we truly become our own. You may be even more likely to be forgiving and understanding of your parents having seen what it takes to be an adult on your own and ready to take full responsibility for yourself and the way you are (as we always say no parent is perfect, they are human after all but at some point in your life you come to realise I can't change my childhood but I can take responsibility by stepping into my power to work through what has come up as a result of it.
Saturn also represents karma. You reap what you sow during this period and karmically speaking in ways. Rewards and harvest are plentiful for those who have done the work for example consistently doing your best at work in a job you love that may mean a huge promotion or a secondment abroad. Maybe you previously you used to ghost many people and then you end up being ghosted in a devastating way that may not be romantic, perhaps a job prospect. These are just examples! 
Karmically for me I've always been dealing with dating emotionally unavailable people and that popped back up towards the end of my return as I began dating again after the break up of a long term relationship and perhaps questioning in moments was I truly emotionally available again? Those pesky patterns that plague you will come up over and over again because they are ready to be resolved and moved.
Your Saturn Return is a Coming of Age
Saturn represents a cosmic coming of age known for it's shake up in all departments of life: your environment and where you live, your relationships — single, getting into a relationship, breaking up, taking a break, deepening a commitment, marriage, having children, divorce, shifting friend groups, new friends, losing friends, changing jobs, changing careers, career highlights, career breakthroughs. It's also for many a notable point of contemplating our own mortality, we are 30 years into life and for women you maybe becoming very aware of the narrative of your biological clock.
Let's take Adele for example, she has a tattoo of Saturn and spoke about her return in a recent interview she she said "It's where I lost the plot … When that comes, it can rock your life. It shakes you up a bit: Who am I? What do I want to do? What makes me truly happy? All those things."
 Her album 30 was in line with her Saturn Return and we've seen her changes unfold in the public eye — she had a child, had a divorce and her weight loss transformation.
How many Saturn Returns do you have?
Now you'll likely have at least 2 in your life time, the first and most famous being the equivalent of your cosmic coming of age transitioning from youth to adulthood. The second is around 56-60 as a marker of maturity and the final between 84-90 entering wisdom.
Should you be scared of your Saturn Return?
Your Saturn Return isn't something to be scared of! Yes, your Saturn Return can feel like you are being served and dished tough love. Yes, your Saturn Return can be turbulent. Yes there will be trials and tribulations, painful moments, challenges, setbacks, detours all for your growth. That is the very nature of growth, most of it happens outside of our comfort zone.
Ultimately Saturn is here to help you be your highest, best and aligned self. Up until this stage most of us unconsciously live our life in terms of the way we believe we ought to and are expected to with regards to society, family and friends. Saturn Return is about reclaiming your life to be authentic in alignment with what you truly want. In fact a major pinnacle within your Saturn Return is understanding who you are, maybe for the first time in your life. It will have you questioning your identity. 
Saturn Return Questions and Journal Prompts
"Are you really doing what you want? Living a life that you always dreamed of and desired for yourself? One that lights up your heart and soul? Or is it based on your mind of what you think it should be or want it to be?"

"Are you taking responsibility for yourself and your life? Your life is the way it is because of choices and decisions you've made"

"Life is precious and fleeting, are you happy to continue the way that it is — are you making the most of it?"
"Are you fulfilled within your soul, in the life that you live right now?
"What do you truly value in yourself, in others and in your life? Does your life reflect that?" — on this question in particular say you have health as a core value in your life but you hardly have time to exercise because you're stressed at work, invest in eating out but not healthy food at home, have your job taking a mental health or physical toll on your body that my friend is out of alignment and Saturn will see that!
Saturn Return - work, career, job
Work is usually a major theme in a Saturn Return because it's all about being on the path of your life's work and purpose. 
During your transit between 27-29 it becomes very and sometimes painfully clear what is in alignment for you and what is not. Classic signs of what is not in alignment including feeling stuck, in a rut, depressed, frustrated and jealous of other people pursuing their passions and dreams. 
That was certainly the case for me. Really my upcoming book will cover my whole Saturn Return transit where everything in my life was shaken up — changing careers and industries completely going from working in brand strategy and media to personal development and growth as a life coach, moving into a home and moving out of a home, getting into a relationship and out of one. 
A very Saturninan thing that stands out for me was the fact that the more I did my side hustle in 2020/2021, feeling how much I loved it and lit me up to the point I woke up at 5am most mornings to have time for myself coach until 8 then work my corporate job until 6 and the coach after until evenings, I realised I really loved it and wanted to do it.
Personal example of my Saturn Return and resistance
It was so hard to trust all the signs that I would eventually do it full time, I had all the fear and worries — ultimately I had to be nudged by the universe as I dragged my heels wanting to quit my job at the end of 2021 and I would end up making the decision in September because it was so obvious what the universe was doing and I was resisting. Feeling overwhelmed and stuck in my job, being blocked towards a promotion despite working and hustling so hard. 
It ultimately came because it was taking a toll on my body and I had to take mental health leave from my corporate job, having been in this position multiple times in my career already I knew this was the last straw and it was no longer sustainable for my health and wellbeing to continue to my corporate job. In total I was in my corporate career for seven years and with the life I live now I can't believe it. 
I used to be stressed all the time to the point of health issues like high blood pressure, stress was my norm. I had many anxious moments, crying and being so unhappy and now I live my most aligned life it's so different. Stress is abnormal. I pinch myself that helping people is work… I love it so much it feels so natural and in easy, that flow state. 
Saturn Return rewards alignment
Saturn and the universe knew before it ever registered my mind that I was here to help people in a personal growth capacity and not be in brand strategy forever. Now ultimately we all have free will but I was rewarded to take that leap of faith and go all in (not without tests such as being offered the promotion, money, job opportunities) and I was rewarded having the most incredible 2022 getting a book publishing deal, traveling and working for a quarter of the year to Europe and Singapore, moving into my dream home, writing my first book and hitting 6 figures in the first year of my business full time. 
Of course lets not forget it wasn't all high flying, whilst my career became aligned I did also have to let go of the home I started my business in and lived in with my ex and ultimately the loss of that relationship which was 2.5 years or 3 years if you count dating before becoming official. 
Saturn Return - love, relationships, break up
Honestly it can be so wild in hindsight, the day I flew out to Europe last year was the exact peak of my Saturn Return. That very trip was something I undertook with my ex and would have ripple on effects for my life. It was the trip that confirmed we weren't meant to be and taught me a lot about myself: being able to work and travel at the same time, the energies of certain locations in the world. Funnily enough Sydney, Australia where I am based is my Saturn line. 
Even then I held onto the relationship longer despite knowing it wasn't right until the plug was finally pulled and even then I held on by living with my ex after our break up and I for sure will never, ever do that again. As you'll read in my book the ramifications of that was arduous on my heart… in fact it felt like I was dragging my heart on hot coals towards the end. 
Again it wasn't all doom and gloom because oh my goodness I fell in love so deeply — to love again is the most beautiful, sweetest experience. It was healing for me after being single for 8 years. We had the best times together and experienced wild things such as a global pandemic together, moving in with a partner, road trips and went overseas together where we did lovely things like river swimming and eating delicious paella at the borough markets in London. Not only that I'll never forget the first Valentine's Day we had together and soon after where we became official literally all my favourite things, dinner at a rooftop, fairy lights strung on his balcony, whisky and my favourite music playing (Rufus du sol).
Saturn Return - discipline, habits
Saturn rewards hard work, facing your fears, listening to your heart and soul as well as commitment. So lets not also forget the theme of discipline. Over the transit you'll likely become aware of habits that don't serve us. 
For me I definitely noticed that when I was stressed in my corporate job I would turn to drinking and partying a lot, and as I entered my Saturn Return my desire to do dissolved (don't get me wrong I still enjoy occasional drinks and going out whereas in my earlier life this would happen 3-4 days a week). 
I developed more wellbeing and spiritual disciplines such as daily meditation and tarot card pulls in addition to breathwork, ice baths and journaling. Whilst I was in my corporate job I would also wake up early at 5am/6am which was discipline but ultimately self love and self care towards myself to ensure my cup was full before all my energy went towards work and side hustling as a coach. 
Saturn Return Human Design Reading
How do you prepare for Saturn and move through it?
A Saturn Return Human Design reading with me can assist into giving you an insights into the particular lessons you are to learn and energies to experience with regards to different aspects of the transit. 
What you Saturn Return is ultimately helping you to do. The context of what it will do for you moving forward into the future. Energies to master and be comfortable with and in other different aspects such as love, abundance, communication, expansion and the spiritual work. Each person has a unique transit of what they're here to experience, move and grow through.
Move through your Saturn return by being proactive
Be on the front foot and be proactive. Doing the work will always put you in good stead as those who learn from Saturn and grow have nothing to fear, so really you listening to this podcast counts, working with a coach/mentor/psychologist. In further saying that you'll have less pain and suffering if you actually listen to your internal navigation system (your authority in human design) — it can seem illogical and wild but its your soul for a reason. Soul isn't logical, soul is magical. If you don't that's the infamy of the Saturn Return which will course correct you and yes that can be really painful. 
Saturn Return Life Coaching
That's where someone like me a life coach can really help too, to hold space for you, provide different perspectives as well as support and guidance! Truly the most potent and powerful time would be for this transition to invest in your personal development and for me sanity during the transit.
Your Saturn Return is to help you be authentic and aligned
Be true to you as your most authentic and aligned self. Saturn is about being disciplined and in alignment with you and your highest self not for other people or society. Turning 30 in society has so many pressures and expectations that you want to release yourself from. 
You don't and aren't meant to be like others: maybe you don't want to get married, maybe you don't want children, maybe you don't want to be on the career trajectory you're on because it doesn't bring you joy, maybe you don't want to get a mortgage. Saturn is here to empower you to live live on your terms, by your own design. To be yourself and be loved for that, not putting on a mask to be liked and loved by others. 
Be present during your Saturn Return
Be present and live it. Saturn will throw twists, turns and shocks. But honestly if I reflect the last 3 years of my life and return have gone so quickly and I'll know for the rest of my life I will always reflect on how much I've changed and grown for the better in the last 3 years, I now truly live the dream, beyond what I ever imagined for myself! The Universe had grand plans for me and Saturn was the helper to bring that all to life. 
The pain was hard of course but was it worth it? Absolutely. I wouldn't change a thing because I know how it unfolded was exactly how it needed to! Therefore give yourself permission to change. Allow yourself to let go of what isn't feeling good in your heart and soul. This transit is dynamic. It doesn't matter what other people think because this transit is about being in alignment with you.
Help with your Saturn Return
For those going through your Saturn Return enjoy it because so much will make sense on the other side as many told me before I went into mine and now on the other side — I get it. I'm still processing it as it's fresh. If you're looking for support and guidance in life such as your Saturn Return or finishing one, get in touch as I'd love to help you through 1:1 coaching or a human design reading.