Podcast: Play in new window | Download
Subscribe: Apple Podcasts | Google Podcasts | Spotify | RSS
Episode Summary of The Grow Through It Podcast with Phi Dang, 24: Your Emotional Seasons
Just like the physical weather seasons of Summer, Spring, Autumn and Winter, you too will experience a change in yourself and your emotions. Learn more about your emotional seasons in this episode and allowing the natural flow of life.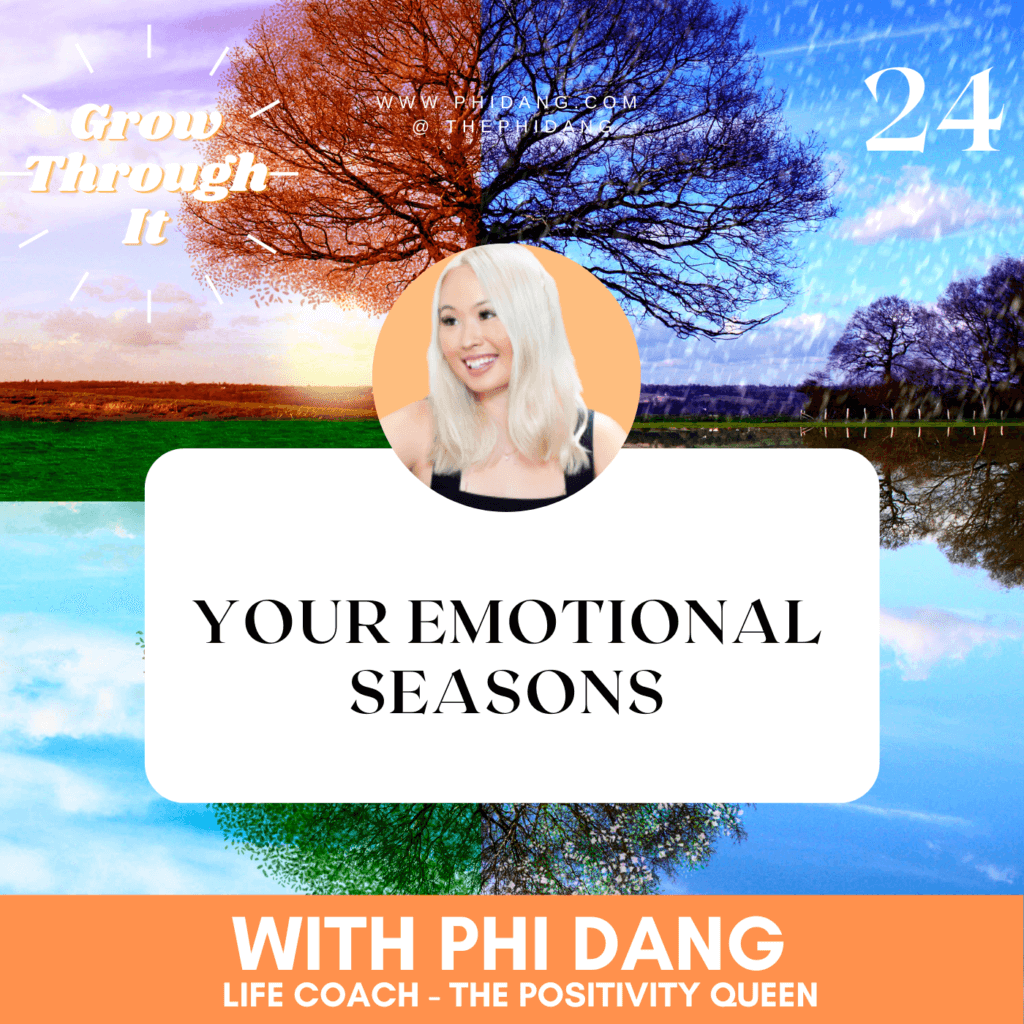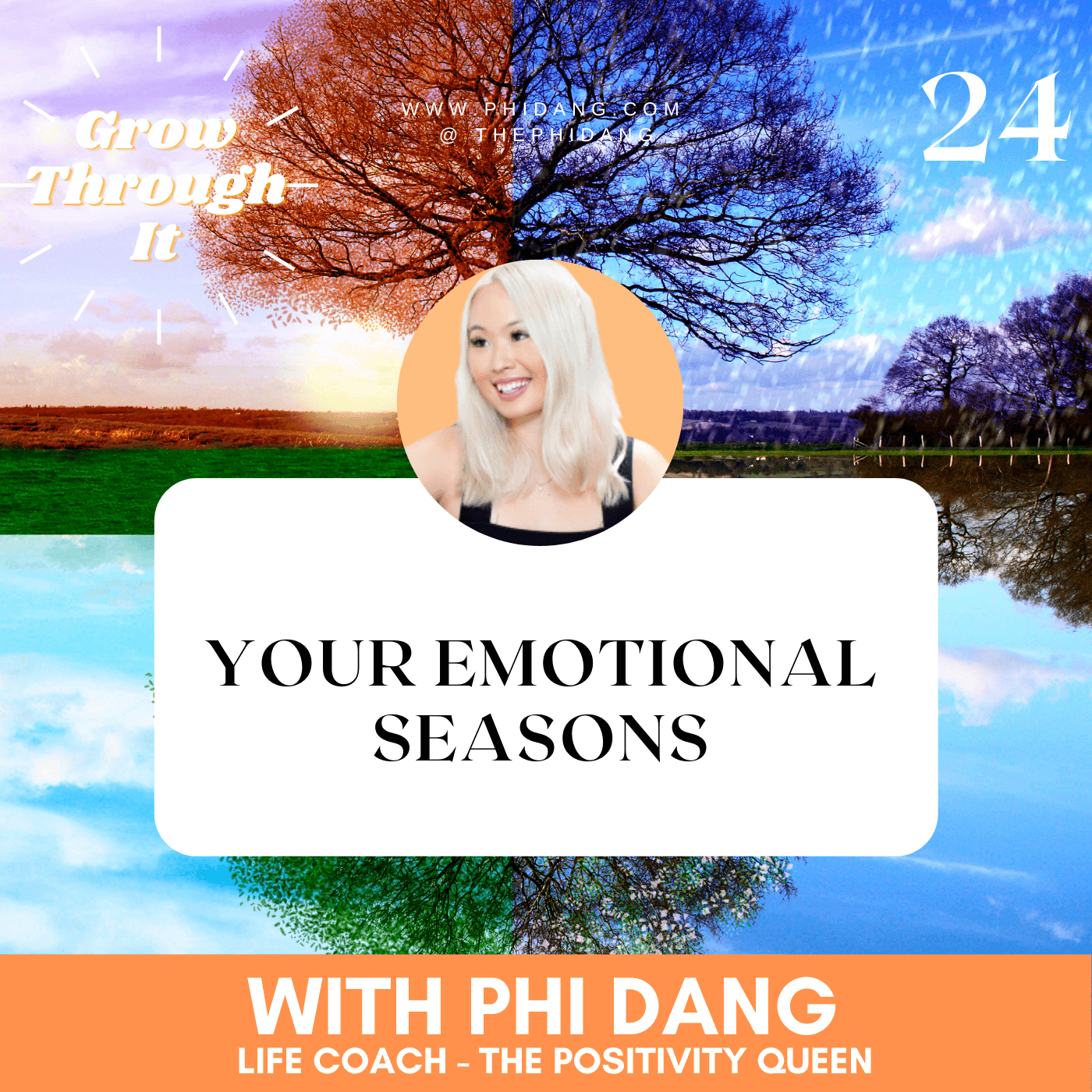 What you'll learn from this episode
Key Quotes from this Episode
Featured Resources on the episode
[Introduction to the Grow Through It Podcast With Phi Dang plays – Background Music: upbeat, confident, rising beat]:
Don't just go through life, grow through it. Don't just go through life, grow through it.
Hi and Welcome to the Grow Through It Podcast with Phi Dang.
My name is Phi and I am a Clarity and Confidence Life Coach known as the "The Positivity Queen."
My passion is to help you go from stuck and self critical to courageous and empowered so you can conquer anything.
Join me, every Tuesday, as I discuss all things mindset, self love, energy and purpose.
This podcast won't just inspire and motivate you, it will also provide practical tips and strategies you can implement in your daily life.
Ready to grow? Let's grow!
[Grow Through It Podcast With Phi Dang End of Intro]
[Episode 24 – Your Emotional Seasons]
Your Emotional Seasons Introduction
Hi beautiful soul, so happy to be with you right now here in this present moment! It's been a huge week for me if you're not following me on Instagram already @thephidang where I shared free nuggets of freedom almost daily, I have officially launched Manifestation Magic. Woohoo there's been such a big build up and I'm soooo happy to be able to share it with you.
I have been experiencing such alignment and flow when it comes to manifesting. I've manifested my boyfriend, a home by the beach and this year I manifested $10,000 already, discounted gym memberships, hotel upgrades, free food – you name it!
I wanted to share the magic of manifestation with you because when it comes to manifestation people just label it as oh you're lucky or that couldn't happen for me but this is furthest from the truth. Manifestation isn't luck, it's intentional energy and magic. I wanted to debunk manifestation for everyone at a really accessible price point (literally less than one third of what you would pay for a 1 hour intensive coaching session with me!) 
If you're interested DM me or check out the link in my Instagram bio to learn more. The class is on the 2nd of May and the price will go up for the replay so get in now if it feels juicy and expansive for you.
The inspiration for your emotional seasons
On to today's episode which was inspired by the launch journey of Manifestation Magic (which already has 10 beautiful souls inside!). I felt so much Spring and Summer launching, so much energy, flow and buzz. Afterwards we can peter out a bit and come into Autumn very much like Sydney is where it's slowing down and transitioning.
So they key here is that just like the physical seasons of weather, Summer, Spring, Autumn and Winter so too will you experience that in your life. This also very much came to me as I revealed I am going on a personal journey of coming off the pill because I want to be more inside and in tune with my body. It's a personal decision, there is no right or wrong either way but I wanted to share this with you because if it helps one person I've done my job.
When I was looking it up I couldn't find much with real people no sponsors or anything so I wanted to play my part in the collective.
Flowing with life and your emotional seasons
So with these seasons it can impact and influence all areas of your life: how you feel, your job and career, relationships, friendships, physical activity, what you eat and so forth.
It's about being open and allowing the energy of the seasons to move through us. To not judge and label ourselves for example if you're in a Winter season – don't push yourself too hard and force yourself to hustle and do, do, do. Winter is about rest. About taking stock. Slowing down. Nourishing. 
These seasons in our life Summer, Winter, Autumn and Spring help to anchor and ground us here in the present moment, the only tru moment. Without each season we can't fully appreciate and experience life. Imagine living in Summer all year long, that would be quite frankly tiring and boring – one hint of Winter and you'll be shook!
Allowing the seasons of your emotions
All seasons and the feelings and emotions you will experience are all valid in their own right. No one feeling or experience is more worthy or 'good' as the other. 
Let them move through you because truly what you resist will persist. 
What you resist will persist. 
Life is about flow and allowing the change of seasons. 
Imagine you physically tried to stop Autumn and all the leavings falling? The cooler weather?
Impossible no matter how much you tried, so why do the same to your emotions?
Physical seasons and their impact on your emotions
It's also keeping in mind how the physical seasons can influence your mood. It's much easier to be joyful in the sunshine vs experiencing consistent cool and cold weather when there is less daylight. 
It's a proven thing, check out seasonal depression – it truly happens! 
Physical seasons and their natural changes
With the seasons we also acknowledge just because its Summer it doesn't mean it won't rain and just because it's Winter doesn't mean there will be the occasional hot day just like your emotions! 
Open and fluid. 
Open and fluid. 
Are you open to this moment here right now?
Episode closing Grow Through It Podcast with Phi Dang 24: Your emotional seasons
Enjoy the changing seasons, embrace them. This is life, the flow, the fall, the transition, the changes… soak up each and every moment with wonder and bliss beautiful soul.
I hope you have a wonderful day, until next Tuesday – love and positivity.