Podcast: Play in new window | Download
Subscribe: Apple Podcasts | Google Podcasts | Spotify | RSS
Episode Summary of The Grow Through It Podcast with Phi Dang, 27: Normalising Boundaries With Family
Family and boundaries. Just because they are your family doesn't mean they are exempt from boundaries. Boundaries exist to help and protect you in addition to strengthening all your relationships especially and including your family.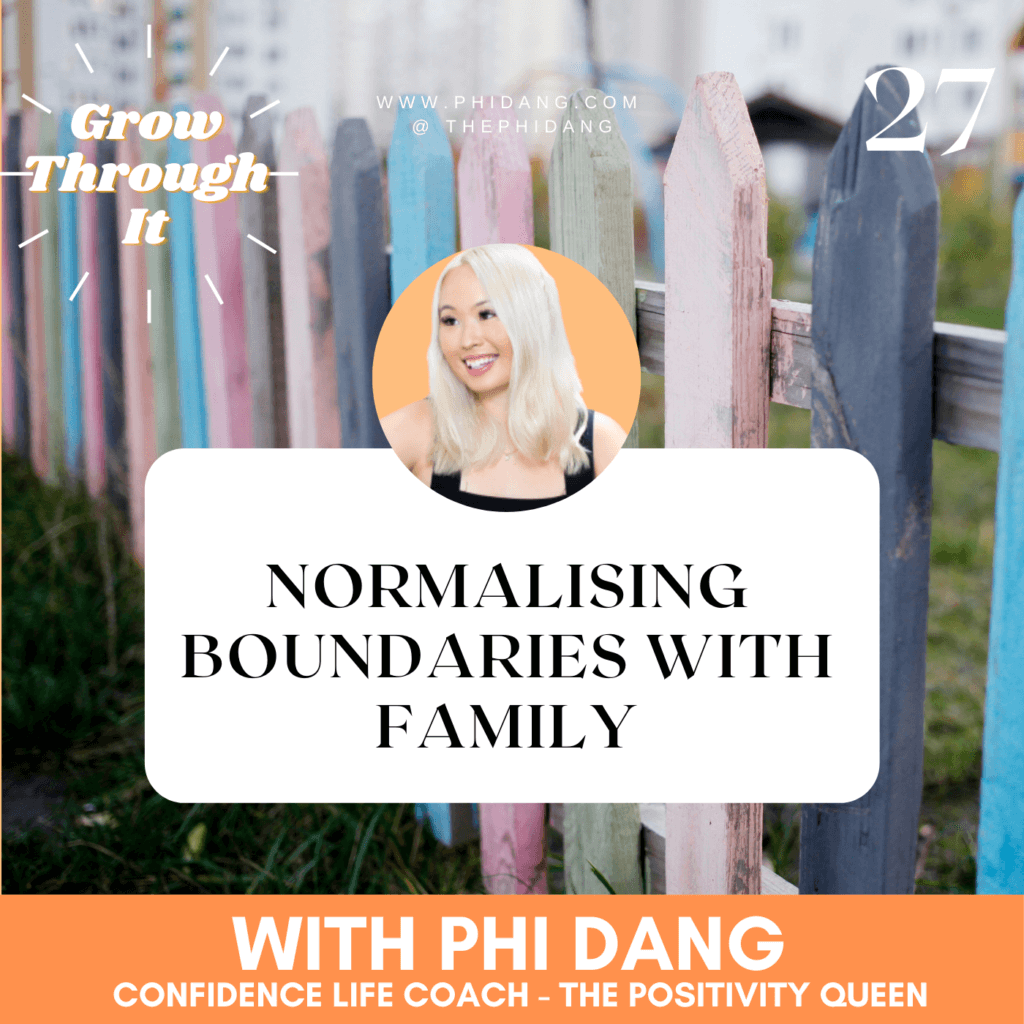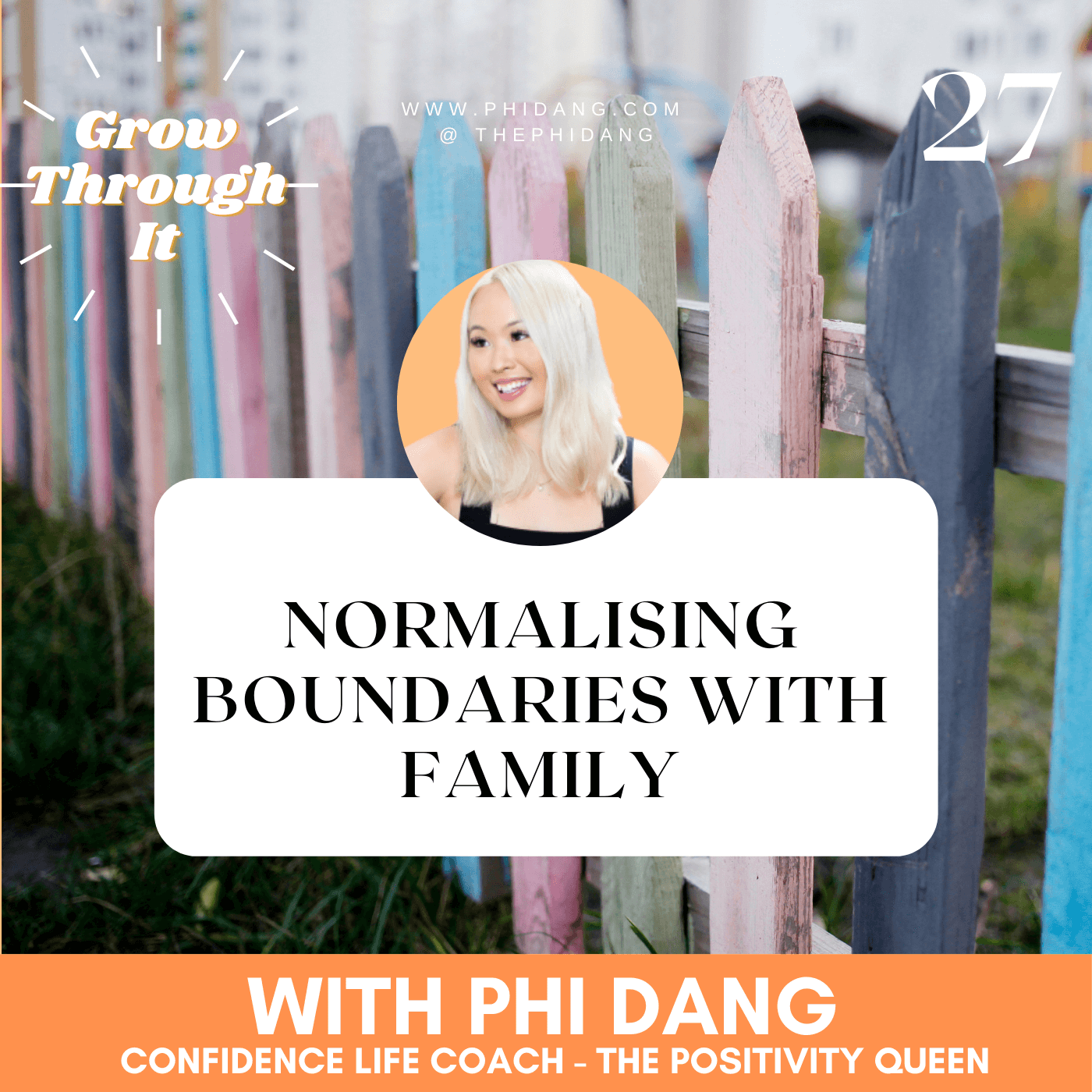 What you'll learn from this episode
Why boundaries also apply to your family​
How your boundaries are formed as a child
What are boundaries
How boundaries are formed
The influence of family on boundaries – your upbringing
The 3 crucial things a life coach wants you to know about boundaries
How we recreate familial situations as an adult particularly in romantic relationships
Practical family scenarios and their influence on boundaries
A practical strategy to understand how your family influenced your boundaries​
Boundaries and cultural conditioning​
A life coach's insight on boundaries
Key Quotes from this Episode
Featured Resources on the episode
[Introduction to the Grow Through It Podcast With Phi Dang plays – Background Music: upbeat, confident, rising beat]:
Don't just go through life, grow through it. Don't just go through life, grow through it.
Hi and Welcome to the Grow Through It Podcast with Phi Dang.
My name is Phi and I am a Clarity and Confidence Life Coach known as the "The Positivity Queen."
My passion is to help you go from stuck and self critical to courageous and empowered so you can conquer anything.
Join me, every Tuesday, as I discuss all things mindset, self love, energy and purpose.
This podcast won't just inspire and motivate you, it will also provide practical tips and strategies you can implement in your daily life.
Ready to grow? Let's grow!
[Grow Through It Podcast With Phi Dang End of Intro]
[Episode 27 – Normalising Boundaries With Family]
Normalising Boundaries With Family Introduction
Hi beautiful soul!
Wherever you are right now and whatever you are doing I hope you are doing well and fully present! 
I've actually started listening to more podcasts when I drive, so if you're driving full focus on the road whilst absorbing this podcast. 
In fact a few of you have written to let me know you love listening whilst driving too and re-listening at home when you can fully take in everything and write notes. 
Welcoming a new 1:1 client!
First of all I wanted to do a huge shout and congratulations to my new 1:1 client S wooohooo beautiful soul I'm so excited to be working with you – my first client from London! In our initial consultation chat S was blown with the breakthroughs and realisations she was having about her anxiety and perspective regarding her career and feeling held back from getting a promotion. She's now stepped into her power and I can't wait to see what the next few months working with her will lead to!
If you've been tuning in for a while, finding my posts resonating and feel the pull to work with me – please get in touch – I would love to work with you as I have done with my clients to help you overcome your negative self talk and limiting beliefs so you can start living your best life, your next level of growth and evolution! 
Why boundaries also apply to your family
Today's episode is inspired and rooted in my latest Instagram post which I did on Sunday to coincide with Mother's Day. Part of that post was being really firm with boundaries even for and especially for family members like your mum.
I want to start the episode with a key insight for you: your family at the end of the day are human just like you. They aren't on a pedestal, we are all and in one the same. From the same source which you may call God, Universe, Spirit, Source, Infinite Intelligence – whatever resonates best with you. 
Labels of mum, dad, sibling are what we give to identify the relationship to the person. They are also roles, you are a daughter or son to someone, perhaps even a sibling.
Just because they are your family it doesn't mean boundaries don't apply to them. Boundaries apply to everybody not just one particular type of relationship.
How your boundaries are formed as a child
And here comes the journey of navigating and understanding the huge role our families play in the formation and enactment of our boundaries.
So many things we believe – how we act, what we believe to be true is formed and learnt from birth and as children. 
We are always consciously and subconsciously absorbing the world around us like sponges that in turn create our programming and conditioning. 
This can become tricky when you are so accustomed to a certain way and belief that perhaps you may not even realise the situations around you are unhealthy, in fact you think it is 'normal' based on your upbringing and conditioning.
How your upbringing and family influence your boundaries
Depending on how you were raised – boundaries may or may not be a thing. 
Simply put, boundaries are what you put in place whether physically, mentally, emotionally, morally, financially and so forth to protect yourself and what behaviour you will allow. 
As a baseline boundaries are ensuring you are respected. That goes both ways including respecting your own self and being firm and following through with the boundaries you set. 
Think of them as sliding doors, used when needed. 
Boundaries are a beautiful tool – they help you to be true to who you are and be in your full expression in life!
The importance of clearly explained boundaries
Whilst I'm talking about boundaries, from my experience as a life coach I can't stress how important it is to clearly communicate and define your boundaries. 
People cannot mind read so you can't expect people to just know boundaries – if you tell them clearly there cannot be any confusion.
How we recreate familial situations as an adult particularly in romantic relationships
On the topic of family and our boundaries, it is in fact our family relationships which form the foundation and groundwork for a lot of other relationships we go on to have in our lives particularly romantic relationships. We often recreate familial situations in romantic relationships consciously and unconsciously.
A common example that I identify with is fear of being abandoned. Growing up as an only child, having my parents divorced I had developed a fear of being alone and abandoned. 
I can recall memories of being left alone in the house and freaking out when my parents just popped out to the shops and of course the heart wrenching memories of my parents splitting up. 
Being so young I didn't know how this would impact me and later on I realised I would get very easily and anxiously attached to men I dated. It wasn't til I did the work I was able to move forward and free myself from this limiting narrative and conditioning. 
The impact of your family and the boundaries you have
So back to familial relationships and boundaries here are some ways in which this can unfold in your life.
Perhaps if you grew up in a chaotic upbringing, you desire more security and control and so you exert firm boundaries as a means of power and distilled down for your safety. 
A healthy boundary for this would be discussing any suspicions of a partner cheating instead of harbouring resentment, making assumptions or making a rule to be able to always check and read each other's messages.
Perhaps you grew up in a household where there were no boundaries, what we know to be as enmeshed families to differing degrees – you spoke to your parents about everything and in turn they knew everything about your business and you knew everything about theirs. 
A healthy boundary for this would be giving your parents a general update on your dating life but at the end of the day you will date who you desire.
Spending time with your family
Perhaps you grew up expected to spend all your time with your family and now you feel very guilty for having your own life and spending time apart from your family. 
Or maybe it was that if someone felt sad in your family, everyone was expected to feel sad too. 
Maybe your family played a very active role in your academic or social life – pushing things to be a certain way. All of these things play a role in the formation of your boundaries. 
A practical strategy to understand how your family influenced your boundaries
For a moment put yourself in a time machine to when you were younger and you said "I don't want to" or "I don't like…" or "why do I have to do this…?" 
Really as a child we are made to do a lot of things we may not necessarily want to as we are learning and growing – being made to speak to or see certain people, eat particular foods, extra curricular activities before, at and after school.
How did your family react? That can help inform a lot about the conditioning you have when it comes to boundaries. 
Know that boundaries develop over time, for example the significant shift occurs as you go from a child to an adult particularly on your independence. Maybe your family dynamics change, divorce happens or new partners in the family happen.
Boundaries aren't evil or made to hurt anyone
Boundaries aren't an evil tool in place to hurt other people or let them down.
Boundaries are the opposite, they protect you and strengthen your relationships. When you can feel safe and at ease with yourself and the world around you, that benefits everyone.
Boundaries and cultural conditioning
Boundaries particularly feel difficult on particular occasions such as Mother's Day which has just happened or holiday season such as Christmas. Cultural conditioning comes into play – it's that feeling of 'you have to spend time with your family', 'you should be nice to your family' and so forth. 
So how do you overcome this? By getting curious. By stepping back and being the awareness of observer of the stories. Oh this makes sense because "society as a whole expects you to spend time with your family." 
Just because it's a holiday it doesn't mean you have to talk to a toxic family member again or even spend time with them if it makes you feel upset and uncomfortable. 
Go deeper and bring it back to the self – do the inner work. Notice your triggers. See the patterns. If you have difficulty this is where someone like myself, a life coach, can help you, or another profession such as a psychologist. 
Note: Listening to the episode on bringing awareness to your inner child can help and be a good start!
Your boundaries are yours
At the end of the day your boundaries exist for you and are created solely by you. 
Give yourself permission to have boundaries because they are important for your safety and wellbeing. 
You know yourself best and it's healthy to do what's best for you. 
It's healthy because in order for you to be your best for those you love, you need to be at your best. 
Episode closing Grow Through It Podcast with Phi Dang 27: Normalising Boundaries With Family
Understand that it is often difficult and uncomfortable to set boundaries again depending on your programming and conditioning. So be patient, gentle, kind and compassionate with yourself. Know that the rewards of having healthy boundaries are worth the uncomfortable journey of enacting boundaries with our loved ones. At the end of the day if your family love you they would want to respect you in the same way that you would want to as well.
Until next Tuesday beautiful souls for another episode of The Grow Through It Podcast with Phi Dang, love and positivity. 
[Episode 27 – Normalising Boundaries With Family Outro]
Are you wanting to find out more about 1:1 Coaching or working with me? Maybe perhaps you want to know more about me. I'd love to connect with you. You can visit my website phidang.com or connect with me on Instagram @thephidang. Speak to you soon.