Podcast: Play in new window | Download
Subscribe: Apple Podcasts | Google Podcasts | Spotify | RSS
This episode explains what Human Design is and how it can help you.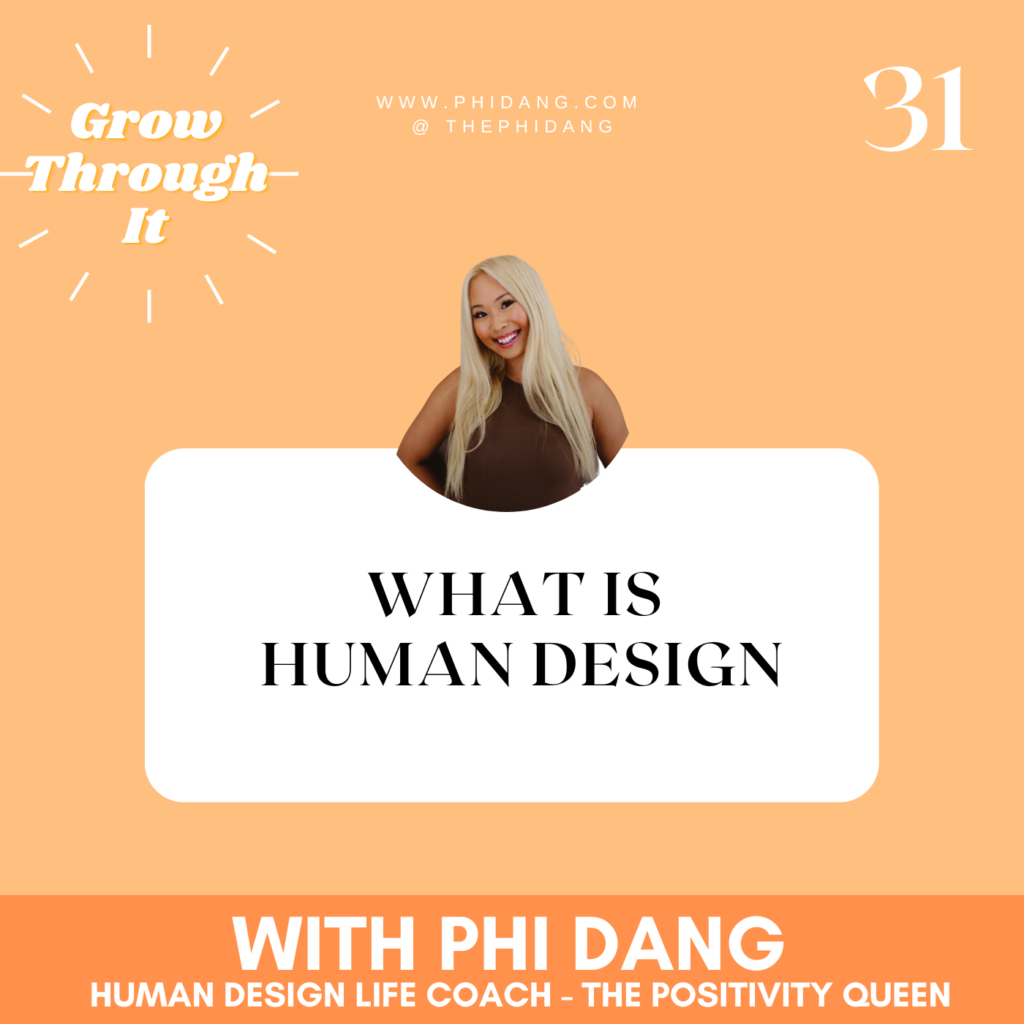 Featured Resources on the episode
Episode 31 - What is Human Design
Hi Beautiful Soul, I am so excited about today's episode because it is about something I am very deeply passionate about which is human design! 
I also love how more mainstream human design is becoming because the information within human design is so powerful and truly life changing.
So what is human design exactly? Human design is a system which helps you to better understand yourself, your human personality self which is termed your conscious self and your unconscious self which is what we call your design, your soul. 
It's a blend of spirituality and science of the modern day and the ancients pulling together astrology, I Ching the Chinese book of truths, Kabbalah, the Chakra System, Vedic Philosophy and quantum physics through neutrinos which carry energetic information passing through your body every second as examples. 
It has been called the 'science of differentiation,' 'the next generation of self knowledge,' 'new astrology,' the 'science of the aura,' 'the intersection of science and spirituality.' It's known as a guide, map, manual to your life as well or a snapshot of your unique energy.
It was channeled by Alan Krakower who went by the name of Ra Uru Hu in the 80's/90's after having a mystical experience where he was given the system what we know as 'the voice'. It's only recently become more well known and mainstream.
Human Design is based on a body graph and you'll see a lot of numbers, symbols, shapes, lines which can be very confusing and that's where I come in to read your chart and interpret your manual to yourself. The right hand side of the chart represents your conscious self at the time you were born whereas the left hand side represents your design imprinted three months before you were born. 
There are many tools and modalities which can help you understand yourself better whether its astrology, personality tests like enneagram or Myer Briggs, tarot cards but for me what stands out is human design because of the depth of information and the practicality of it. It's not just a map to understanding who you are it, also gives you the insights and tools on what to do with this information, how to live, how you can apply it to any area of your life which I have seen with clients whether its business, career, your love life, making money, your life's purpose and so fourth. 
Human Design is a tool for understanding yourself better and how to best apply yourself in the most authentic and alignment way. It shows you how you are unique, there are literally over 2 billion different combinations of human design. You can have the same energy type as someone and be completely different because there are so many different parts to your human design: your energy type, your authority, your profile lines, your variables, your life energies, energetic channels, actual variables the list goes on! 
The thing I hear the most from people who have had a reading is how validated they feel. They go ahhhh this is why I am the way I am which is a beautiful thing. To release fears that you aren't 'normal' or perhaps that you're 'broken and messed up' because you aren't. 
Working with clients the way I like to help people understand this is through this perspective. Your soul chose to come to Earth. It chose to be in your body, with your personality and agreed to various things/circumstances/people in your life to learn the curriculum it wants to. In spiritual terms, karmic bonds, soul lessons and so fourth. When we approach life like this, there's this relief. The universe and your highest self isn't making life difficult on purpose which very much ties into the whole theme of this podcast. You aren't just going through life. You're growing through it. This very much ties into the main energy of my life purpose which revolves around struggle and purpose. 
When should you have a human design reading and why you should have a human design reading
I have found from my own experience and working with clients, human design often finds you when you're ready! Trust the pull and curiosity, the universe is always leaving energetic breadcrumbs for us. Why would you be drawn to human design? Any time is perfect but to call out some reasons I've done readings for people:
You want to know yourself better and why you are the way you are (the ultimate permission slip to live life as your truest self). Who you really are vs who you think you are or what other people think of you. Your strengths and weaknesses. Your gifts. The life lessons you're meant to have.
You're feeling stuck, stagnant, lost, confused, perhaps at a cross roads or a life transition.
You want to know more about what you are here to do on Earth in this lifetime, your soul path and purpose. 
You want to delve into and understand your truth.

You want to know how to make the best decisions in your life with confidence and ease.
You want to feel less resistance in your life and more flow, it feels like being in a stream not pushing against the currents of life.
You want to bridge the gap of where you are now vs who you are meant to be by living in accordance with the blueprint and guide of your soul.

You want to explore your self esteem, human design will most certainly help you see that you aren't flawed or missing anything. You're here to embrace who you are, to learn to use your innate gifts and be in harmony with life.
You are interested in shadow work and integrating that within yourself to know yourself deeper and embrace how the shadows help you learn and grow. 
Human Design is based on your exact time of birth, date and where you were born. For the most accurate reading it is vital to have this information however if you don't, I have been able to help clients ascertain their human design because the way I do human design is intuitively more on my approach to human design later in the episode. So you input those details into a system which you can do for free as an example the website MyBodyGraph however to really get the details, nuts and bolts of your design its best to go to a reader such as myself to interpret the information and be there to guide and support you with any questions you may have. 
Human Design Energy Types - Strategy
Like I said human design is an in-depth system and I don't want to overwhelm anyone so on a top-line information you know how in astrology you say you are a sun sign, rising sign and moon sign to identify yourself but the in-depth mechanics are unique to each individual. 
This is similar to human design, you have your energy type (one of five, the majority of the world are generators – the doers which make up 70% including manifesting generators – the magnifiers and energetic powerhouses, we also have projectors – the guides 20%, manifestors – the initiators 9% and the rarest of all reflectors – the mirrors 1%). 
Human Design - Authority - How to make the best decisions
Then you also have an authority which is how to make the best decisions. Everyone is different, it's very much the advice you'll hear thrown around which is "follow your heart" or "don't decide with your emotions." Everyone is different!
The different authorities are solar plexus (riding emotional waves, hi this is my one) – 47% of the population, sacral (moving quickly, trusting initiate gut reaction, listening to the sounds of your body like mmmmm or uh uh) – 35% of the population, splenic authority (in the moment intuition like a lightning bolt) – 11% of the population, environment 3.5% (sometimes also known as mental authority which is the need to voice your thoughts and perspectives), hear your voice and talk it out with others + knowing your environment deeply impacts you, self projected 3% (which is only an authority for projectors who are here to listen to their own voice and connect with the core of their identity the G center in human design), lunar 1.4% (which is for reflectors only who are to make decisions in alignment with the lunar cycle which typically runs 28 and a half days) and the rarest which is ego with just 1% (which is for a projector or manifestor who is here to follow their heart's desires).
Human Design personality and profile lines
You also have numbers which represent your personality which are made up of two, the first number being your conscious personality and the second being your soul personality. Each number represents a different quality whether it's 1 – investigator, 2 – hermit, 3 – matyr, 4 – opportunist, 5 – heretic or 6 – role model. 
What else is covered in a human design reading?
In a reading we will look at the specifics such as your energetic centres which represent different aspects of life which are represented by the different shapes in your body graph chart. These centres explain for conditioning and being influenced by external factors, which in turn your greatest areas of growth and wisdom whereas defined centres explain for your natural strengths however you are more fixed in nature here. 
The chakra system has 7 centres whereas human design has 9: the head – explains for mental pressure, ajna or this eye – awareness, perspective, throat – expression, inspired action, g centre – identity, love and direction, heart – willpower, ego, self esteem, sacral – life force energy, sexuality, spleen – intuition, instinct, fears, solar plexus – emotions, highs and lows, root – pressure, adrenaline and drive. 
You learn about what it actually means to be in alignment with your highest self and when you are not your self. Of course we delve into life energies, your soul purpose and path and in a live session you can ask me questions specifically related to your chart too.
How did I get into human design and how has it changed my life?
Human design came into my life maybe 2-3 years ago, I stumbled upon it on the internet and when I first saw my body graph it made no sense and so I dismissed it and went about living my life. It would somehow return into my life during my side hustle and I felt a pull towards it. So I invested in coaching and had my own readings done and I was truly blown away by how much it resonated with me. Now I know this sounds crazy but after that I just 'got' the system and decided to do readings for my clients. Now to give you context during this time my intuitive gifts started opening up if you listened to my last podcast episode and probably will do for future ones and I have a 2 profile line in human design – the hermit which is also known as the 'natural genius' for certain things. Human Design happens to be my genius. 
I share human design based on my own interpretations and intuitive downloads whereas other readers may learn the system and do a reading based off that. Each reader will bring their own life experiences, uniqueness and skill sets! What matters is for you to always use your discernment, take what resonates and discard the rest. 
From there I received feedback from clients who started telling friends and it just spread like wildfire. I am known for giving a lot of in-depth information and detail, the blueprints I manually put together every time are at least 70 pages and I also pick up on intuitive clues that are unique to your soul whether its a symbol or being able to read the energy of where you are in life right now or perhaps stuck. I've been fortunate to be the expert resident of human design for Wellweb filming an introductory series there as well as be a part of retreats such as Zero Point Yoga at the incredibly luxurious and well appointed Soma in Byron Bay where they filmed Nicole Kidman's nine perfect strangers series.
I don't post anything about Human Design on my Instagram yet I was getting booked out months in advance. So really the majority of my clients have come from referrals which are huge testament to the impact of a reading on a person and I am so very grateful.
One of the greatest things was learning my purpose which is the unexpected which I can very much attest to in my life. So many crazy, wild things have unexpectedly happened. The life I live today is not what I ever imaged for myself, it's better int he best way possible. Part of my purpose is that I have the channel of struggle, which is when I have pain without purpose, yes I suffer. For all the suffering I've had, I've been able to channel into helping other people and being the life coach that I am with a breadth of life experiences whether it's in my career, mental health journey, turbulent emotions navigating the death of my dad and of course relationships and dating. In fact this all ladders into my main life energy which is about fighting and comprehending the meaning of life: purpose. To face my shadows and my fears head on – definitely not an easy soul curriculum, a challenging and very rewarding one. This also helps me to be able to share different perspectives on life which my clients affirm are able to unblock and shift them even in one session with me!
Human design helped me to navigate big life changes such as quitting my corporate job, moving homes and a break up to feel out how to make the big decision for me as an emotional manifesting generator I had to ride the waves. The longest one being the decision to quit my corporate job oh the ups and downs there! Learning that I am designed to be emotional has been a game changer especially when I've been called sensitive or moody — I now go yes that's how I am. I was built to experience the full spectrum of emotions so understanding that has helped me particularly in tough times when I am in the emotional low, I know that the nature of emotions are waves so coming back up is inevitable as with the down.
My emotional authority has also helped me to help others be able to feel (especially after going numb when my dad died at 20). It's helped me help clients reconnect with their heart and soul, to truly feel.
In fact I've always been busy and on the go, multi tasking, starting things and then not finishing which I was conditioned to believe was bad but very much in the manifesting generator sphere of how we are. I've always also been complimented on my energy and presence and that is something my clients report feeling uplifted and energised after speaking with me, full of insights, ideas and the desire to take inspired action.
It's also given me permission to do business my way with predominately feminine energy validating the desire for my business to feel easy and in flow combined with the manifesting generator quality of being lit up, excited and energised by what I do. Learning that alignment for me is satisfaction leads the way for me and when I'm frustrated I know that what I'm doing isn't for me or the way I am going about it isn't in alignment with me.
With relationships, it's helped me understand why I get along with someone and why I may butt heads with them. How I influence them and how they influence me. How our energies come together and what purpose it serves in life.
Human Design client testimonials of Phi
To share some feedback of how human design has helped clients straight from from client testimonials:
– My confidence has gone next level.

– I learn how to exactly manifest based on what's best for me.

– There's so many layers to the human design chart and I find myself relistening to our session and rereading my blueprint and each time I learn something new, it blows my mind away.

– It confirmed many parts of myself and also helped awaken myself to parts I didn't think or know about myself.

– I feel so seen and understood.
– I always knew I was different but I felt like I needed to conform or satisfy others, I lost myself. Human Design and my reading with Phi helped me call back to my own purpose, to prioritise myself. My uniqueness no longer scares me and I read my human design blueprint everyday to be more in tune with my soul.

– Mind blowing. The amount of goosebumps during out conversation. I was nodding the whole time because everything resonated with me at a soul and visceral level. Your energy is infectious.

– Phi has a special gift. It's so special, affirming, enlightening, it's truly changed my life.

– I felt like a puzzle piece of myself with all the pieces floating around me but human design gave me the tools, closes and know how to bring it all together.

– Phi's reading has been a homecoming to me, simply because I have so much more clarity on me, my life, business and relationships. I'm honestly overflowing with joy and gratitude.


Honestly there's so many you can find them on my website or in my Instagram highlights. The best thing to do is experience it yourself! Human Design is to be lived as an experiment. It isn't here to box or limit you, in fact it's here to free you!
From my own personal experience I've never had anyone say that their human design was not accurate. I've definitely had people been triggered and come back to share that in the most beautiful way because they used their human design as a portal and catalyst to their truth, perhaps uncovering even shadow work and areas to grow because whilst it didn't initially resonate, on a deeper level it did and there was a fear to confront that aspect of themselves. Human design shares the highest expression of an energy as well as the shadow expression. 
Types of human design readings Phi offers
Human design is like astrology, your foundational human design never changes at its core however it does have influences that change on a daily basis thanks to the position of the Sun, Moon and the planets. Think of it as astrological weather. These readings are best down with an understanding of your foundational human design. 
Deeper Human Design Readings
There's so much information that it can't all be covered in your foundation reading which covers 4/26 life energies so of course a deeper dive will look into the rest of those energies. I also customise these based on whatever you need, it's all likely human design cover its from the best environment for you to how you best digest food or your most intuitive sense.
Relationship Human Design Readings
You can look at your human design in comparison to another for a relationship reading which I do for many couples and have done for those separating to process a break up. This can be applied to all relationships. I have done readings to see the dynamics between friends, business partners, clients, teachers, mentors and family as examples.
Business by Human Design
I also do specific business sessions to help you get unstuck on areas in your business such as what you're here to communicate, marketing and brand (my background in the corporate world before becoming a coach and human design expert), attracting clients, how to build and run your business in a way that feels like flow and ease. 
Yearly Human Design Readings – Solar Transit Human Design
Also known as a solar transit. The path for your year ahead what you can expect in terms of energetic themes and influences. This one is done yearly ideally around your birthday but can be any time. 
Saturn Return Human Design Readings
Aimed at those aged 27-29, whereby life provides a huge shake up for you. Specifically significant if you have a 6 profile line given you live life in three stages and your Saturn Return ushers in your second stage. For example during my Saturn Return I quit my corporate job, moved homes, got into a relationship and also got out of the same one. Huge life changes to ensure you are living in alignment with your highest self after all Saturn is about discipline. 
Uranus Passage – Uranus Opposition Human Design Readings 
The spiritual mid life crisis or shall I see mid life awakening aimed at those aged 39-42, but have seen clients up to 44-48. It all depends where you are in your journey and how you are feeling as life unfolds for you. Can coincide in changes in life direction. 
Chiron Human Design Readings
Your deepest wound in life and it becomes highlighted aged around 50. Though an interesting reading to understand as when you heal from this, often we go onto help others heal in this very area too. 
You can book a reading on my website or contact me for more information of course!
Human Design and Life Coaching
Human Design is one of the tools I use in my 1:1 coaching and even clients I've seen for a year and beyond we still discuss and uncover different layers and aspects of their human design. In fact with some clients we will visit how human design activates their gift on a purpose journey, the wounds and karma of understanding their relationships and heart as well as prosperity, to see how one is going to be the most abundant and fruitful in their life. 
I currently do have 1:1 coaching spots open so if you are interested please reach out to set up a free 30 minute call to see how I can best help you and if we are the right alignment and match for each other.
I hope you enjoyed this episode on human design! It would mean the world to me if you're able to leave a rating and review to spread the word and help others on their personal development journey too. Catch you next time beautiful soul!