Podcast: Play in new window | Download
Subscribe: Apple Podcasts | Google Podcasts | Spotify | RSS
This Saturday May 6th, I will be holding an in person Divine Feminine Day Retreat in Newtown, Sydney, Australia with my beautiful friend energy healer, yoga & meditation teacher Japna Singh Dussol. It happens to align and coincide with the Scorpio Full Moon Lunar Eclipse (unplanned but so divine!) This episode provides more information about the event and the energies at play at the moment (tiring and emotional!).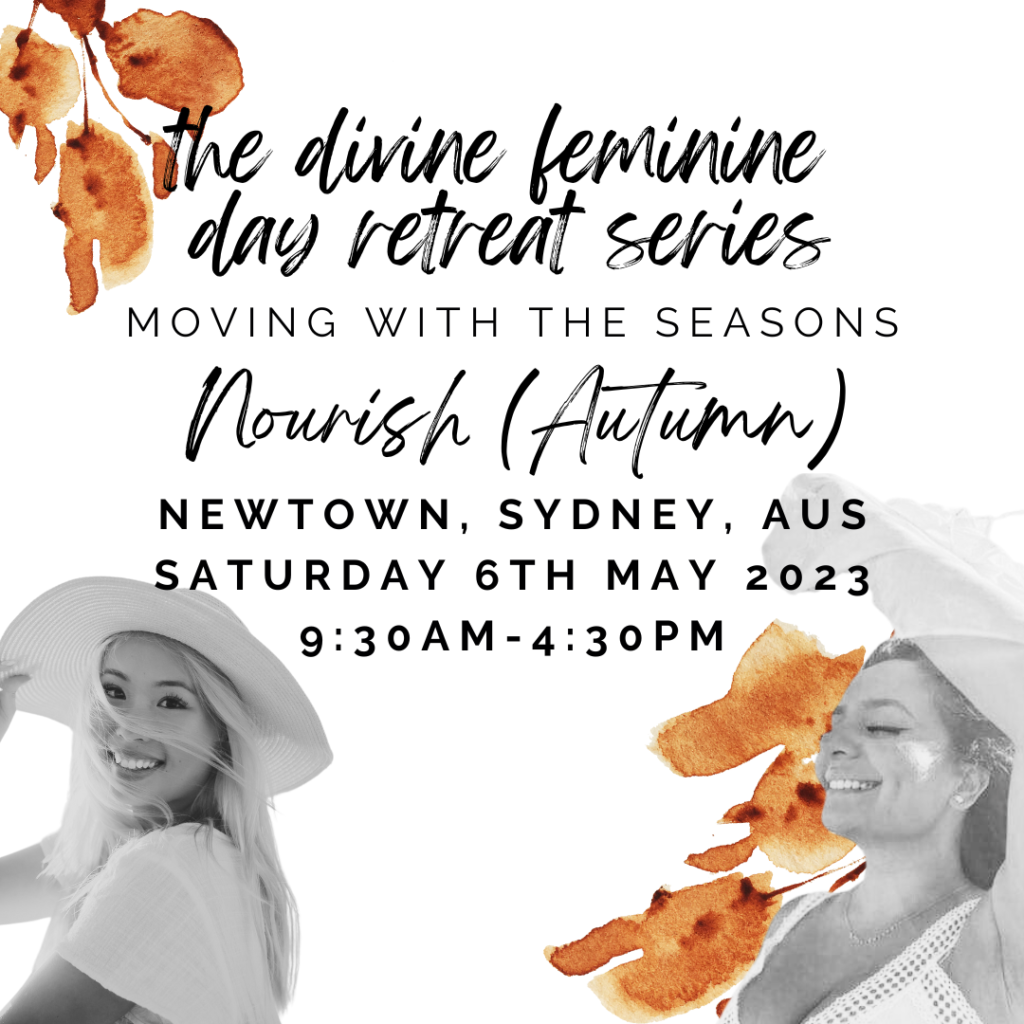 Featured Resources on the episode
The Divine Feminine Day Retreat Series - Autumn May 6th 2023: Newtown, Sydney, Australia
Magic happens when women gather in circle.
Scorpio Full Moon Lunar Eclipse Energy Update
We've had the new moon solar eclipse in Aries last week and now we are heading into a lunar eclipse full moon with Scorpio (which happens to be my sign!).  This eclipse is linked to the previous one because it's the perfect time to let go of anything that arose back then and is part of a long series of Taurus and Scorpio eclipses, in fact the second last marker in this journey that began in November 2021 and will end in October this year around my birthday too, so I'm all too well of the feelings and energies of this one. 
Take a moment to reflect on what was unfolding in your life since and back in November 2021 to zoom out and shed light on the storyline that is being divinely created and orchestrated in your life for your highest growth and expansion. 
Scorpio represents the south node which is karmic and the past therefore it can particularly stir up karmic relationships and situations, residuals that may have previously begun with the solar eclipse last week to fall away because it no longer serves you. Think of it as a spiritual karmic detox and purge. I'm personally really getting the download for anyone listening here to pay attention to karmic relationships whether that be romantic, family, colleagues or friends. 
The solar eclipse is about new energy and beginnings whereas a lunar eclipses is about completion or moving into a new direction. The moon represents the subconscious and feminine, so one can expect this full moon eclipse to be emotionally charged in some way. Eclipses often reveal things and with Mercury Retrograde about, as well as another retrograde in Pluto, expect the unexpected. Expect wildcards and curveballs thrown at you. Who knows what information could arise to the surface that could catch you off guard or perhaps even shocked. This is to say, it's not all negative! It could be life altering, positive news too. 
It's the perfect storm one could say because Pluto actually rules Scorpio, alongside co-ruler Mars. To dive deeper into the influence of Pluto think back to around the 22nd/23rd of March when Pluto moved into Aquarius for the first time in our lives! Pluto energy is very aligned with Scorpio so the usual suspect themes: destruction, death, rebirth, the subconscious and transformation. With it moving into Aquarius it also brings about the themes of change, innovation, freedom, liberation, equality and the collective.

Both planes aren't known for being shy, if anything they are bold and out there so expect the revelations, energy and feelings accompanying the moon to be the same. The major theme I see arising from this transit is it's asking for us to let go and master the art of emotional alchemy. Again if your feelings and energies are all over the place, a full moon has a strong influence alone let alone a lunar eclipse which is the energetic equivalent of 10 full moons at once so yes your feelings may be magnified, your feelings may be intensified and it can be temporarily destabilising.  
To tune into our emotions and intuition. To face our emotions and feel them instead of running away, repressing, ignoring and blocking as we've been conditioned to. To transform our pain into power, wounds into wisdom and grief into gold (yep took that line straight of my book the Great Unlearning). Our feelings aren't to be feared, they can be incredible portals of transformation and springboards for creativity.